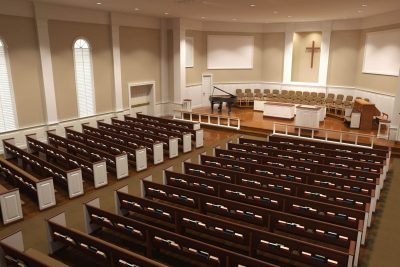 Our project consultants and craftsmen understand the importance of preserving the historical significance of your church sanctuary or chapel. We offer various ways to modify your platform to gain more flexibility while respecting your church's unique architecture. Church Interiors has a network of plaster repair specialists, experienced church painters and artists that have perfected their craft over many years of service. Ornate plaster and wooden crown moldings, as well as decorative millwork can be restored so that many more generations can enjoy the church's original architectural features. Our experts are able to restore and even replicate original church furnishings like pews, chairs and chancel furnishings. We also provide stained glass window restoration for your church's antique stained glass, in addition to new, custom stained glass windows. Our goal during traditional and historical renovations is to preserve and enhance your church sanctuary's architectural details, while updating other materials like carpet, fabric and furnishings and the audio and video equipment. Below is a list of projects that you may find during a typical traditional renovation:
Platform Redesign and Remodeling
Painting & Plaster Repair
Hardwood Floor Refinishing
Pews & Chancel Furniture Restoration
Pew Upholstery & Pew Cushions
Antique Lighting Restorations (LED & Fluorescent)
New Architectural Lighting
New Carpet, Tile and Stone Flooring
New Choir Chairs & Chancel Furnishings
Baptistery Renovations
New Baptisteries
Audio / Video Upgrades
Narthex Renovations and Furnishings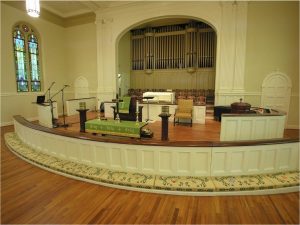 Our Interior Designers and Liturgical Designers work with churches exclusively and are sensitive to all styles of worship. We strive to provide your historical or traditional renovation with the highest quality products to create a beautiful and reverent worship friendly space.
Traditional Renovations Gallery