Westside Baptist Church
Westside Baptist Church in Jacksonville, Florida seats 2,700 congregants. We provided a large scale cosmetic renovation with interior design, accent trim, stacked stone, acoustical speaker cloth balcony pew reupholstery, space-saving removable choir chairs, new flooring for platform and sanctuary, new theater seating, chancel furniture and painting.
Preston Road Church of Christ
Preston Road Church of Christ is a beautiful church located in the Highland Park area of Dallas, Texas that seats around 600 congregants. Our complete renovation consisted of adding a uniquely designed wood ceiling with trusses, new audio video components, restoring the original solid oak pews, a new multifunctional stage, custom lighting, stained glass restoration and backlighting, new entry doors to expedite traffic flow, custom millwork, flooring, new HVAC systems, electrical, new roofs, exterior sign, welcome center and much more.
First Baptist Marion
First Baptist Church-Marion, AR was a complete interior renovation of their 25,000 square foot sanctuary building. Phase One of the renovation included architectural design and construction of the Sanctuary building. The sanctuary platform was re-designed for contemporary worship, two former classrooms converted to a welcome center lounge with coffee bar, addition of contemporary stage feature walls, new audio/video/lighting package with televisions for live streaming, stained glass repair, new roof, iPad Kiosks for check-in, security surveillance system, new flooring and new theater seating.
Pinedale Christian Church
At Pinedale Christian Church, located in Winston-Salem, NC, Church Interiors Inc. provided a complete sanctuary renovation that included our Design Build services of architectural design, new stage design and construction, electrical, painting, and new theater seats. Our Flooring crews installed LVT throughout the sanctuary nave and balcony.
Wesley Memorial United Methodist Church, High Point, NC
A traditional Methodist Church, Wesley Memorial was founded in 1856. The current sanctuary was constructed in 1960 and is home to some of the most ornate stained glass windows in NC. Our team of consultants and craftsmen restored the limestone walls and refinished the entire ceiling by hand. Pew refinishing and architectural lighting upgrades were included in this truly historical renovation.
Complete Renovation
Limestone Restoration
Refinishing of platform millwork
Pew refinishing
Slate Flooring Restoration
New acoustic wall treatments
New architectural lighting
Wilkesboro Baptist Church
Wilkesboro Baptist Church located in the foothills of North Carolina added technology while keeping their traditional roots and aesthetics. We added new stained glass windows, audio visual, individual auditorium seating with traditional pew ends, church stage design, painting, and sanctuary flooring.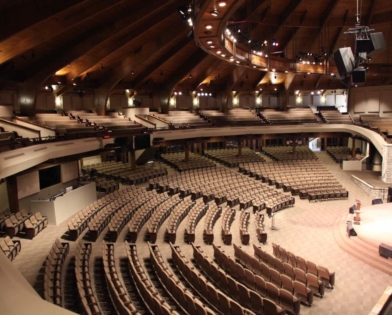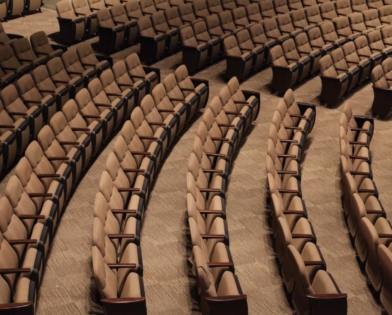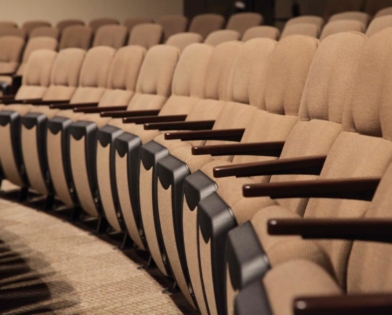 New Hope Baptist Church, Fayetteville, GA
A Contemporary Southern Baptist Church located south of Atlanta, New Hope Baptist Church seats around 2500. Our team removed 144 pews from the lower level and installed 1000 new theatre seats. This raised the sanctuary's seating capacity by almost 20%. Our team then installed 1600 square yards of carpet in the balcony and reupholstered 120 pews. New Hope BC now enjoys a radius seating configuration with improved sight lines.
Balcony Carpet
Pew Upholstery
Theater Seating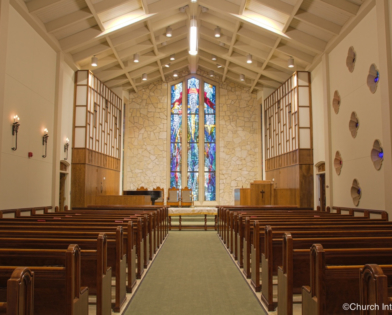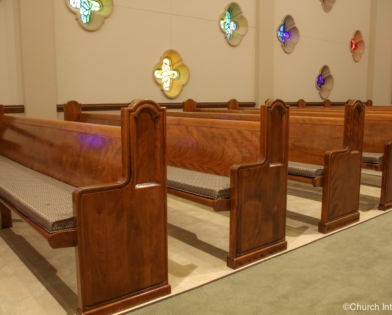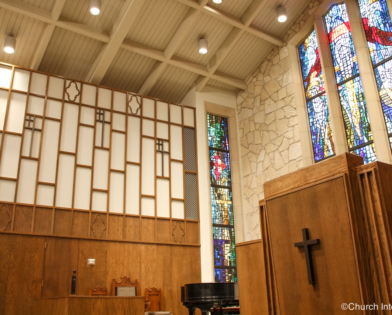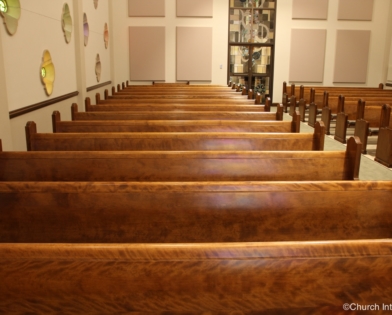 First United Methodist Church Glass Chapel, Midland, TX
A traditional Methodist Church located amongst the oil fields and wind turbines of West Texas, FUMC was founded in 1885. The current church was constructed in 1968 and Glass Chapel subsequently in 1976. The chapel has a historic designation and hosted the wedding of the 43rd President of the United States, George W. Bush and his wife, Laura Bush. Our team of designers and consultants updated nearly ever surface throughout the chapel, while maintaining the building's historical integrity.
Complete Renovation
Plaster Repair & Painting
Refinishing of platform millwork
Pew refinishing and new cushions
New carpet, luxury vinyl tile and luxury vinyl plank
New acoustic wall treatments
New LED lighting
New audio speaker system