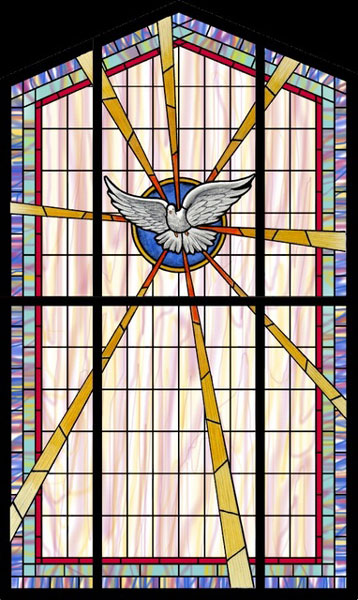 Opalescent Glass
Opalescent glass is a mixed glass in which one piece may have from two to five color combinations. It contains a white opaqueness that does not let you readily see through it. These windows may also contain hand-stained pictorial scenes. Like cathedral glass the glass is held together with lead cames (narrow strips of H-shaped lead). This glass, as well as cathedral glass, works well in a light box, which we also supply.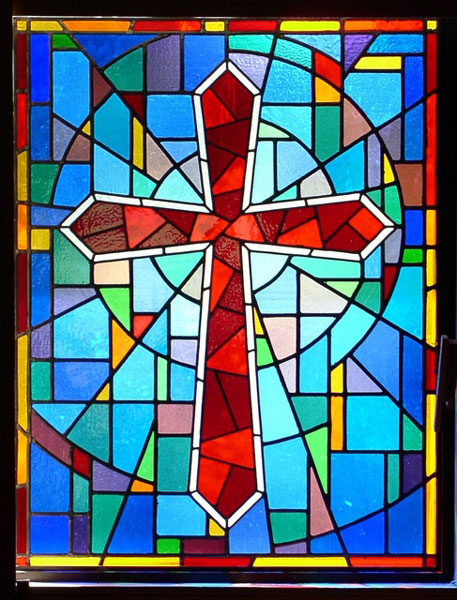 Cathedral Glass
Transparent glass that usually contains only one color is considered cathedral (double roll) glass. Within cathedral windows, hand-stained pictorial scenes, symbols, and memorial plates may be incorporated.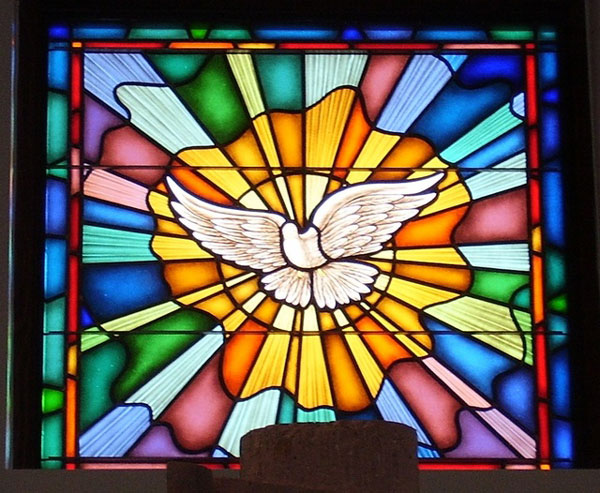 Hand-Stained Glass
As the name implies, hand-stained glass is actually stained with a reddish brown or black paint. Skilled artists apply a layer of stain to a piece of colored cathedral glass, and with the tapping of a brush, remove it in the areas to be highlighted. After baking in a kiln between 1200 to 1300 degrees Fahrenheit for about 30 minutes, the stain is permanently embedded into the glass. Pictorial scenes, symbols, and memorial plates may be designed in this window.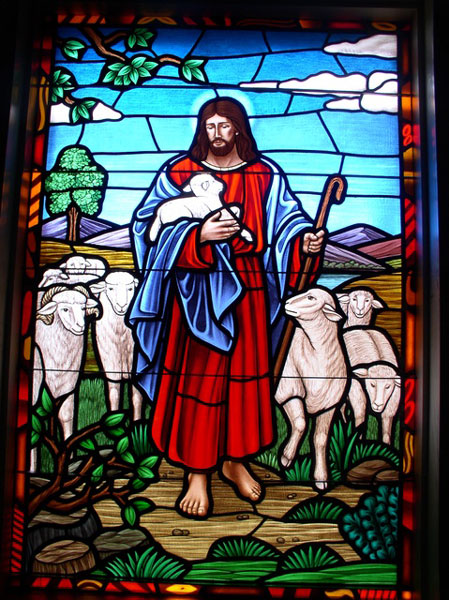 Hand-Stained Pictorial
This leaded glass is used to produce beautiful pictorial work. While providing a wide variety of designs depicting the life of Christ, we can create any type of window to suit your needs.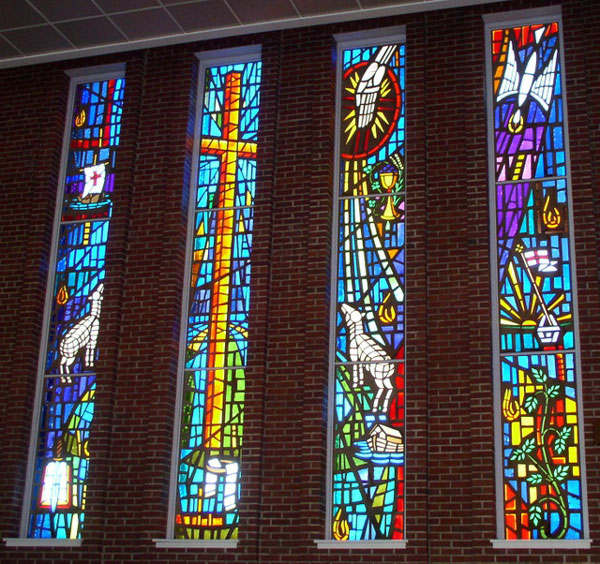 Faceted Glass
Distinct from the leaded glass, faceted glass has its own unique appeal. It is an inch thick and its surface is faceted or chipped. While the other types of glass are bound together with strips of H-shaped cast lead (called cames), faceted glass is held together with an epoxy (a cement-like substance) which allows the spaces between the glass to vary if desired.
Restoration & Protective Covering
If your existing stained glass windows are sagging, bulging, cracking, or just need a good cleaning, we can restore your windows to the splendor of when they were first installed. With their expert craftsmanship, Laws can relead and clean your windows as well as match old broken glass. To protect your valuable windows from the outside elements and flying debris, we also offer protective covering.