Since 1981, Church Interiors, Inc. has performed over 12,000 renovations and remodeling projects. We have renovated small chapels that seat less than 100 people to large cathedrals & sanctuaries that seat over 5,000, including many churches on the Historical Registry. Church Interiors, Inc. has a Nationwide Dealer Network of project consultants and installers that are eager to help make improvements to your church.
Our goal is exactly the same as your renovation committee, to make your worship space as beautiful as possible, at a competitive cost with minimum disruption to your church services.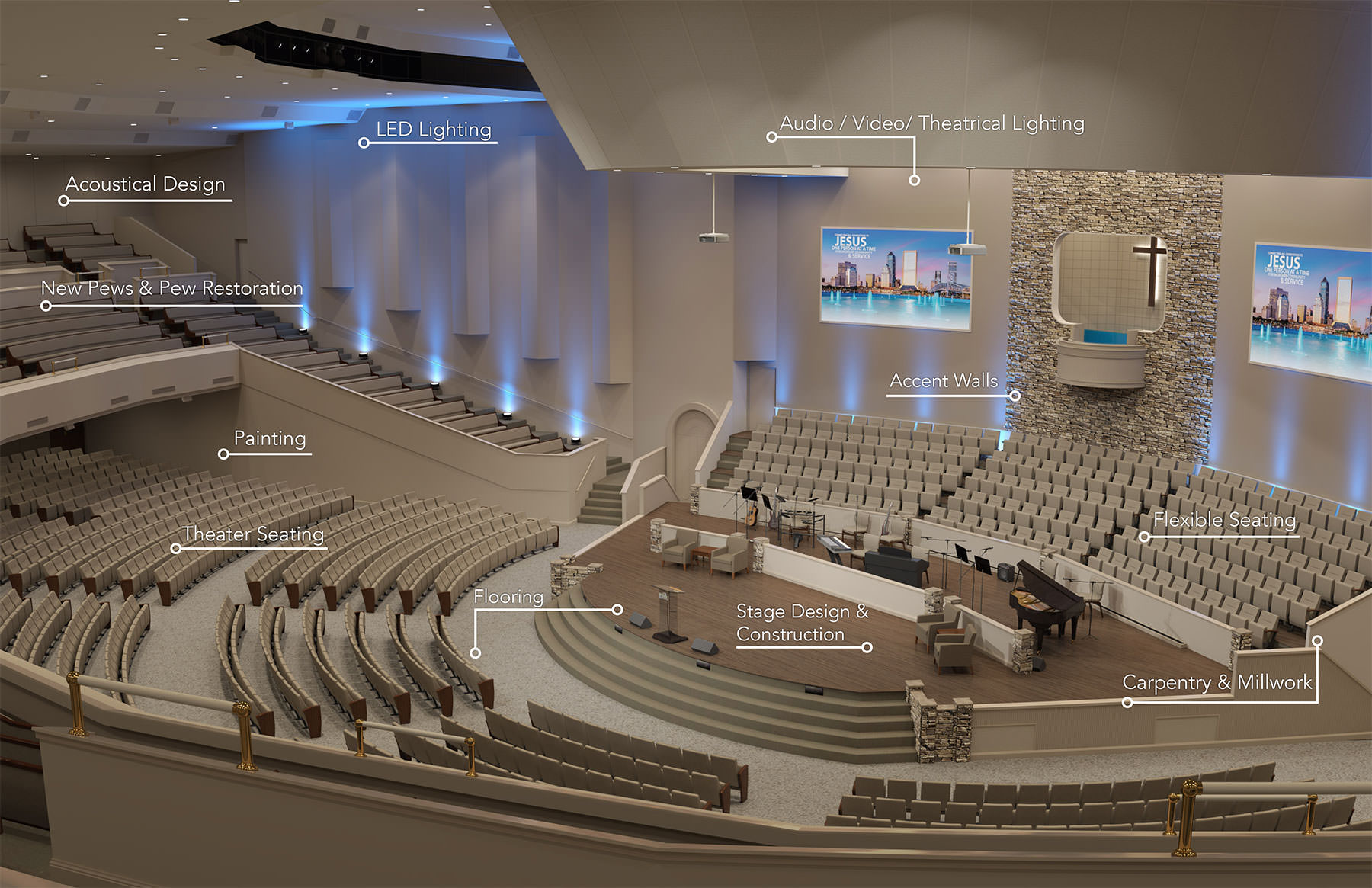 Our office personnel prepare proposals and contracts, order and expedite materials, coordinate schedules of various trades, coordinate billing, prepare Certificates of Insurance and Performance Bonds, and prepare PowerPoint presentations.
Charles Wicker, President
Chuck Wicker, Vice President
PROJECT CONSULTING

Our Project Consultants can assist with improvements to your church facilities through experience and training.

DESIGN & CONSTRUCTION

As a church design-build general contractor, we can assist with planning as a turnkey entity. Our experience give us the tools to help you plan for the future.

INTERIOR DESIGN

Our Interior Designers and Liturgical Designers work with churches exclusively and are sensitive to all styles of worship. timeless experience.

RENDERINGS

Our 4K Resolution Renderings create excitement with a preview of your future project.
SEATING

Restoration: Upholstery, Refinish & Paint Pews, Chairs, and Theater Seating

New: Furnish and Install New Pews, Chairs and Theater Seating

 

FLOORING

Carpet: Broadloom & Modular/Carpet Tiles
 Hard Surfaces: New Hardwood Flooring, Hardwood Refinishing,Luxury Vinyl Tile and Porcelain Tile

LIGHTING, AUDIO & VIDEO

LED Lighting: New, Retrofit, Custom Performance Lighting
Audio/Video: Design, Installation and Training

PAINTING & PLASTER REPAIR

Our experienced paint crew repair, restore, and replicate all existing wall and ceiling finishes.

SPECIALTY SERVICES

Stained Glass
Chancel Furniture
Pew Cushions
Welcome Center & Fellowship
Youth Area Design
Way Finding & Signs