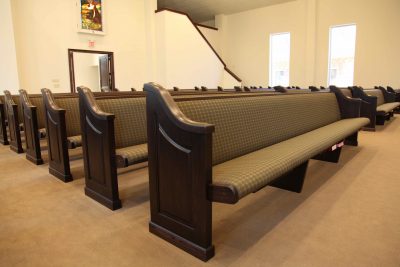 Church Interiors, Inc. is the manufacturer's representative for Rugel Church Furnishings. A leader in solid oak and maple designs, Church Interiors offers the latest in Traditional, Modern and Colonial furniture offered by Rugel. No particleboard is used in construction. Upholstered church pew bodies are reinforced with a solid oak inner-frame. All components are screwed together into solid oak or solid maple and are guaranteed not to come loose for the life of the installation. Colonial ends are 2 1/4" thick solid maple and have a true raised panel route with extra sharp corners. Models come in a variety of pew bodies. Choose from fully upholstered, seat only or solid wood church pews.
Church Interiors, Inc. can duplicate your existing church pews. Learn More!
Solid Oak Pew Ends
Solid Oak Supports
Solid Oak Inner-frames
Solid Oak Book Racks
Custom Designs
Custom Replications
Concealed Fasteners
Fabric Armor
Protected Fabrics
Lifetime Installation Guarantee
No Particle Board
No Veneer
No Butcher Block
Pew End Profiles
Pew Bodies
Our superior craftsmen monitor moisture levels to insure stability over time. Rugel's Patented oak innerframe provides our church pews with a rigid and sturdy frame capable of years of service. Our cap rails are also routed into each pew end to create a stronger, more durable joint.
Our pew backs come standard with 1" high density polyurethane foam and our seats come available in 3" or 4" high density foam. Our screws are anchored into a solid oak inner-fram. All plywood is high quality fir. Our church pews do not consist of any particle board products. Our fully upholstered pews are reinforced with a solid oak inner-frame.