Painting & Plaster Repair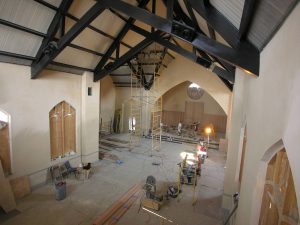 Church Interiors has a Nationwide Network of over 300 Professional Master Painters. Painting monochromatic color schemes is our specialty. Most churches have ornate moldings and beautiful architectural features that go unnoticed during renovations. Our experienced master painters can repair and paint your church to enhance these features. Our craftsmen also handle pews properly and provide the very best in protection when it comes to your church's furniture and instruments so that your renovations or restoration project turns out perfect.
30 years experience painting churches
Experts in handling pews
Plaster Repair Specialists
Professional drywall repair & installation
Interior design available
Plaster Repair
Plaster finishing and repair is a specialized trade that requires special materials & techniques. Typical drywall patching will be obvious and cracks will return in 3 - 6 months. Elastomeric plaster compound & elastomeric finish coats must be used to give the surface flexibility. Proper plaster repair & prep work will take twice as long as painting. If painting takes 2 weeks, plaster repair and prep work will take up 4 weeks of your church renovations or restoration.
Suggested Specifications:
Plaster repair must be performed by an experienced craftsmen with at least 5 years experience in plaster repair and finishing. Loose plaster must be removed to provide a solid foundation for new plaster. Surface patching and skim coating cracks is not recommended. Call today to learn more on how Church Interiors, Inc. can repair and paint your church properly to ensure the best renovation or restoration results.
Painting & Plaster Repair Gallery