Emergency Church Renovation Services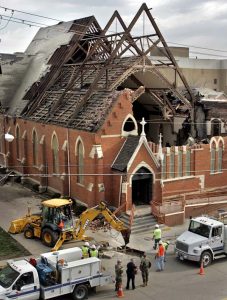 For the past 30 years we have served church communities throughout our great Nation. We specialize in dealing with the pew restoration, refurbishing, refinishing and sanctuary remodeling needs of your congregation after a natural disaster such as fire, smoke, storm, and water damage.
We have experienced church remodeling and renovation consultants that will make the process of sanctuary renovations as easy as possible. We offer free onsite consultations and will work closely with your contacts and insurance adjusters during the church renovation, remodeling or decorating process, including carpet, furniture upholstering, pew refinishing and more. We have the capability of responding immediately and assessing the situation to avoid any subsequent damage that often occurs to the church carpet, furniture and stained glass windows.